Beacons — How Could I Use Them?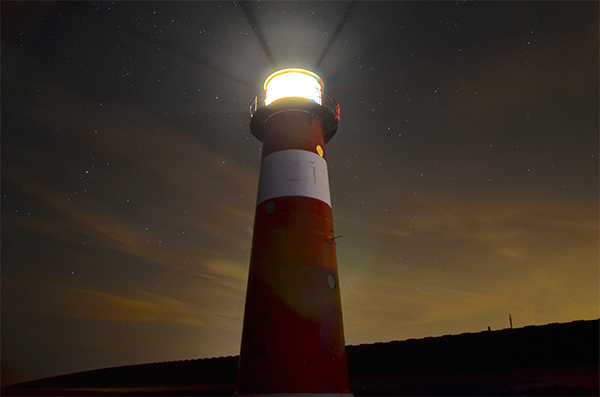 Have you heard about beacons? 
Beacon technology is based on the action of sending data between a transmitter and a smartphone or tablet with an installed app that enables receiving signals.
Beacons can be compared to lighthouses, but instead of sending light they send radio waves to all applicable receivers nearby.  They are small computers charged by a coin battery, equipped with an accelerometer and a temperature sensor.  When users walk next to a beacon device, their smartphones get notifications personalized by the beacon's owner.  This system allows sending only small data pieces and has some limits (eg. you can't transfer music or video material).  Because beacons can recognize their proximity to nearby devices, they can adjust messages to the location of signal receiver.
What opportunities do beacons give you?

Beacons can be comprehensively used.  But the most popular way that people use beacons for is personalized conversation with customers when they are in the area nearest to their business location.  It allows you to customize messages sent to the users and gain a completely new group of customers due to the better understanding of their behavior.
Most representative example of using beacons' technology is applying them to announce new products or promotional sets.  Run a car lot and want to inform your regular customers about a summer sale?  Just put a beacon device in your place and let it send messages to customers who walk into or nearby the shop.  You add a new car to your lot and a potential buyer seems to be interested?  Stick a beacon transmitter to it and send the customer details of the vehicle if he visits your shop and stands next to the vehicle for a longer while.
Beacons fit a variety of industries
It's not only retail where you can use the power of contextually relevant notifications.  It works also for businesses related with transport and logistics, traveling, healthcare, banking, and so much more.
In modern hospitals and doctor offices, the personnel use devices, like tablets to get easy access to patient's health report.  Doctors receive them immediately when they walk into the patient's room which decreases the amount of paperwork and simplifies the distribution of medical reports and test results.
If your business area is related to the travel industry, you can use beacons to identify your high value passengers and prompt real-time messages about boarding time, departure time and gate number.  Moreover, you can provide the information regarding which luggage carousel arriving passengers' baggage will come out on and what is the expected waiting time.
By introducing a digital extension into the physical world, beacons provide completely new ways of interacting with customers.  They give business owners a wide range of opportunities, and since they do not need to be connected to the Internet you can use them almost anywhere you want.
So what are you waiting for?  Think about your strategy and choose devices that fit your customer's needs best!